Non-Certification Classes
For those who want to learn CPR but do not require a CPR Course Completion Card

A Letter of Completion issued by Save A Little Life and signed by the instructor is available upon request only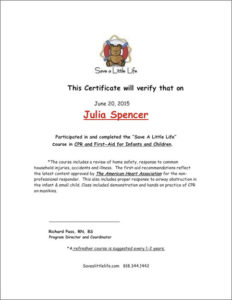 NON-CERTIFICATION CLASSES DO NOT PROVIDE A CPR COURSE COMPLETION CARD
WE OFFER THE FOLLOWING CLASS OPTIONS:
(All classes are up-to-date and in compliance with current AHA guidelines)
Available at various locations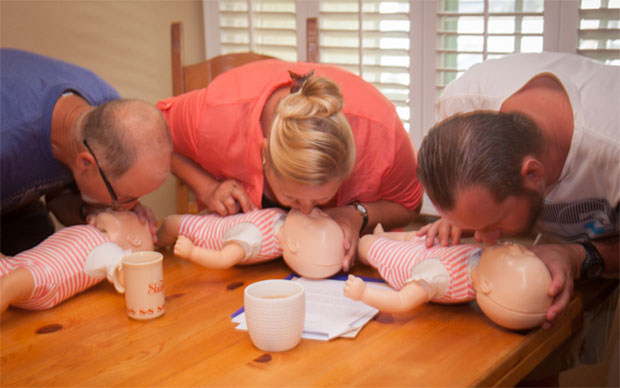 FAMILY AND FRIENDS CPR AND HOME SAFETY COURSE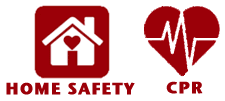 Runs approximately 2.5 hours
This course begins with an essential review of safe practices in the home to lower risk of common household accidents.
A discussion of what CPR is, and under what circumstances it may be required, is next, followed by a demonstration of the basic skills.
Life-sized mannequins are then provided to each participant. The instructor will then assist them in becoming familiar with the skill set by introducing various scenarios in which a parent might find themselves. Different sized mannequins representing the various stages of childhood are available for that purpose.

Students will also receive crucial information on the basics of airway obstruction and instruction on how to remove an obstruction.
There is ample time for questions both during and after class, if necessary.

Ideal for new parents, grandparents, babysitters , community groups and anyone interested in learning how to save a life.
AVAILABLE IN ENGLISH OR SPANISH

INSTRUCTION INCLUDES:

Safe practices for Home Safety
How to perform Adult & Pediatric CPR
Adult and Child use of an AED (Automated External Defibrillator)
How to address mild and severe airway blockages in adults, children and infants
Single:     $75.00
Couple: $140.00
NOTE: THIS COURSE DOES NOT PROVIDE A CPR COURSE COMPLETION CARD
A Letter of Completion issued by Save A Little Life and signed by the instructor is available upon request only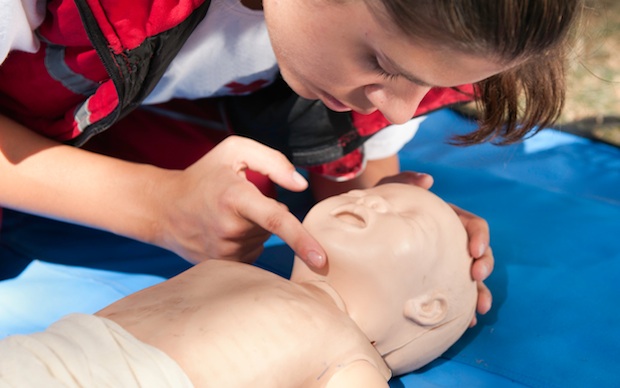 PEDIATRIC FIRST AID & CPR COURSE
(Based on the Heartsaver® Pediatric First Aid & CPR course)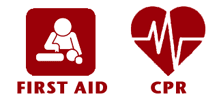 Runs approximately 4.5 hours
This is a classroom course that teaches how to respond to and manage illness and injuries in a child or infant in the first few minutes until professional help arrives.

Upon completion of the course, students receive a Letter of Completion with their name and our director's signature printed on it.
Ideal for  anyone who works with children:
Babysitters (12 and up), Child Care Workers, Teachers, Camp Counselors, Youth organizations, or Coaches for children's sports organizations
AVAILABLE IN ENGLISH OR SPANISH

INSTRUCTION INCLUDES:
Pediatric First Aid Basics
Illnesses and Injuries

Controlling Bleeding and Bandaging

Burns and electrical injuries

Allergic Reactions

Breathing problems

Drowning

Bites and stings

Broken bones and sprains

Eye injuries

Head, neck, and spine Injuries

Poison emergencies

Mouth and cheek injuries

Tooth injuries

Splinters

Common household hazards
CPR for infants, toddlers and children

Choking hazards

How to clear a choke
First Responder Skills

What to do first

What to do if you're alone

What to do if another person is there to assist

What not to do
ALSO INCLUDED:
Hands-on practice with mannequins
A Q&A Session
Students also receive:
a companion booklet with expanded First Aid information
a poisonous plants chart issued by Poison Control

FEE SCHEDULE AND INFORMATION:

      1-4 persons:         $375.00
      5 persons:            $85.00/per person

      6 persons:            $80.00/per person

      7 persons:            $78.50/per person

      8 persons:            $75.00/per person

      9 persons:            $72.00/per person

     10-14 persons:      $55.00/per person
     15 + persons:        $50.00/per person

A MINIMUM OF 4 PEOPLE IS REQUIRED
FOR THIS CLASS
MAXIMUM: 20 STUDENTS
NOTE: This course does not provide a CPR Course Completion Card
A Letter of Completion issued by Save A Little Life will be awarded upon completion of the class but names must be submitted ahead of time.

PRIVATE CLASSES FOR FAMILIES AND ORGANIZATIONS
Available by request only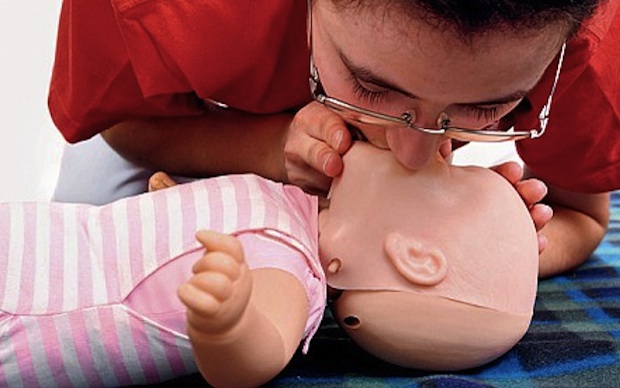 CHOOSE FROM ANY OF OUR NON-CERTIFICATION COURSES


Perfect for Home or Office
Course outlines are  described above
      1-4 persons:         $375.00
      5 persons:            $85.00/per person

      6 persons:            $80.00/per person

      7 persons:            $78.50/per person

      8 persons:            $75.00/per person

      9 persons:            $72.00/per person

     10-14 persons:      $55.00/per person
     15 + persons:        $50.00/per person

  A MINIMUM OF 4 PEOPLE IS REQUIRED
FOR THIS CLASS
MAXIMUM: 20 STUDENTS